Handling US Regulatory Investigations and Litigation by the SEC, CFTC & FTC
Posted: Tue Apr 17, 2018 4:56 am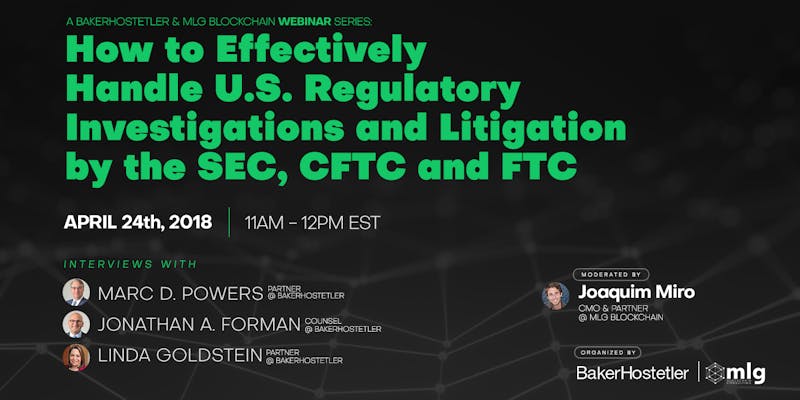 Blockchain technology has the potential to empower the public and private sectors, however, the regulatory space is evolving at a different pace than innovation. In partnership with BakerHostetler, this webinar will explore pressing issues around ways U.S. regulators investigate and prosecute possible violations of securities, commodities and marketing laws involving token sales. The attendees of the webinar will get a chance to interact and ask questions live during the webinar.
Please note this is an online event. You can register for the webinar here:
Webinar Registration Link
Panel Speakers
Marc D. Powers - Partner, BakerHostetler LLP
Linda Goldstein - Partner, BakerHostetler
Jonathan A. Forman - Counsel, BakerHostetler LLP
Hosted & Moderated by: Joaquim Miro, CMO & Partner @ MLG Blockchain
Webinar Topics
-What to do when receiving the call/letter from a US Regulator?
-How to best prepare a response?
-What is the regulators' Investigative Process?
-How to Preserve the Attorney-Client and Work Product Privileges?
-What is the Reliance on Counsel Defense?
-What is in the regulators' Enforcement Toolkit for Remedies/Sanctions?
-How to handle Parallel Proceedings by U.S. Attorneys, State Regulators and Class Actions?
Please note this is an online event. You can register for the webinar here:
Webinar Registration Link