Centric is already on Coinmarketcap( https://coinmarketcap.com/currencies/centric-cash/ ),coingeko and some other.
This video explains how we can make huge returns :
Centric (formerly Upstake/UPDC hardforked to Centric) is the world's first dual-cryptocurrency payment network.
The Centric Rise token rewards you with a steady increase in value each hour.

Here is official update/s from the great team!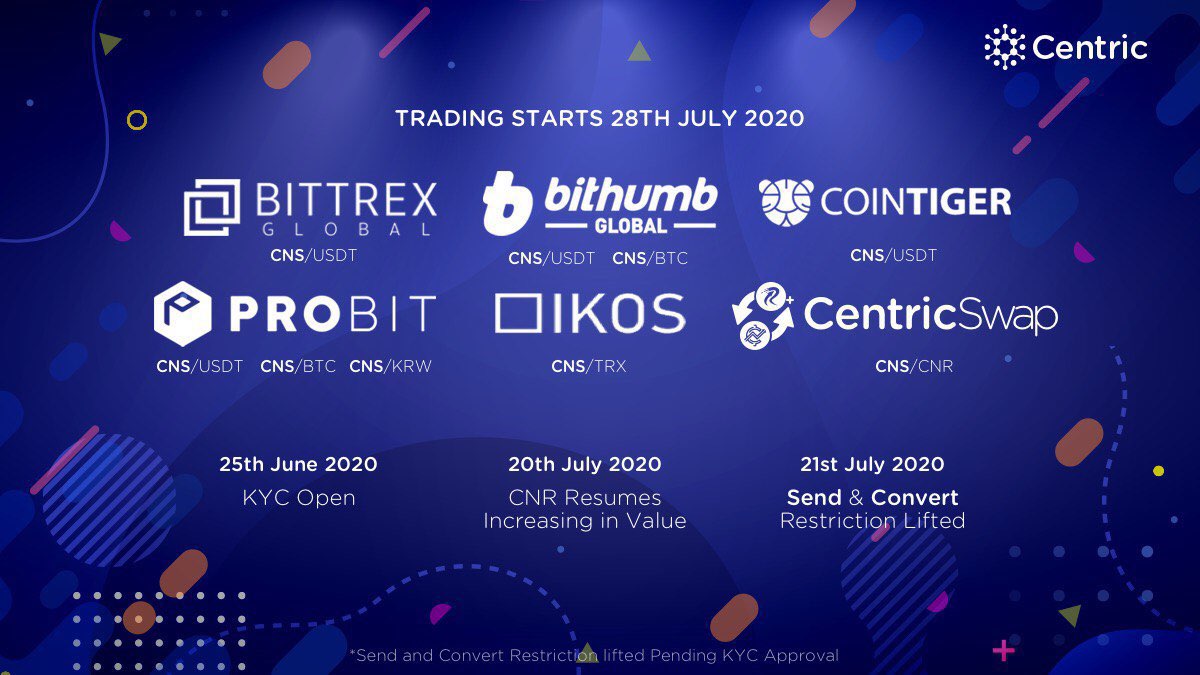 As promised
centric explorer is live
profit calculator is live ( https://www.joincentric.com/rise-price-calculator/ )
price blocks for next 12month is live
send , recieve, convert has been enabled .
CNR hourly growth is now active
our official exchanges will be active 28th of July, deposits would open 27th
Trading competition would be live on all exchanges
Centric (CNS) will list on coinmarketcap on 30th July.
For more information visit
https://www.joincentric.com/
Also more info. here:
https://web.telegram.org/#/im?p=@centric
https://web.telegram.org/#/im?p=@CentricChat
&
https://www.reddit.com/user/joincentric
For those who are interested,A simple guide/steps to avoid confusion
1.Buy CNS on exchanges.Send them to your tronlink (https://bit.ly/2Egm2fQ) TRX address.
2.Use www.centricswap.com and convert CNS to CNR (because it is CNR that raises hourly in value)
3.Convert CNR to CNS when you want to sell(About conversion: We always get 1$ worth of CNR for 1 CNS i.e at present rate of CNR, say 10$/1 CNR,we get 10 CNS when we convert 1 CNR & likewise when 1 CNR is 15$, we get 15 CNS on 1 CNR conversion)